Birds of Colombia
COLOMBIA BIRDING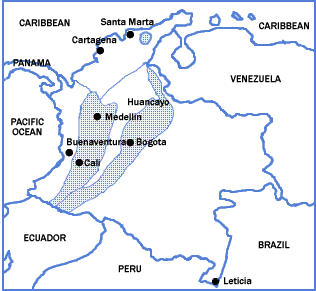 The high bird diversity of Colombia results from the country's mountainous terrain. The Andes Mountains split from a single cordillera into three. Between the cordilleras are the Magdalena Valley in the center of the country and the Cauca Valley to the west. Add to that the Pacific lowlands where many species also found in Panama reach the southern extent of their range and the Santa Marta Mountains near the Venezuela border. Some 75 birds are endemic to Colombia, with another 155 near endemics found only in Colombia and a neighboring country such as Ecuador, Venezuela, or Panama. For this reason, endemics are the primary focus of most birding tours to Colombia.
There is simply too much birding in Colombia to cover everything in one tour. Typical birding tours cover the Magdalena Valley plus the Santa Marta Mountains or the Cauca Valley plus the Santa Marta Mountains. Coastal areas near Santa Marta such as Los Flamencos National Park and neighboring areas are also home to a number of endemics. More widely distributed species can be seen in Ecuador as well as Colombia and hence are less a focus of birding tours to Colombia. Nevertheless, depending on how much emphasis is placed on endemics, it's possible to see some 450-600 species in a single 2-week tour including 45-50 endemics.
Few tours visit the Colombian Amazon due primarily to limited facilities. Nevertheless, the Heliconia Lodge in far northwestern Brazil is best reached from Leticia on the border between Colombia and Brazil. This is currently the best place to go birding in the Amazon from Colombia. The great thing about visiting this lodge is that birding there can be combined with birding in other parts of Colombia, which together can make a spectacular 2-week tour.